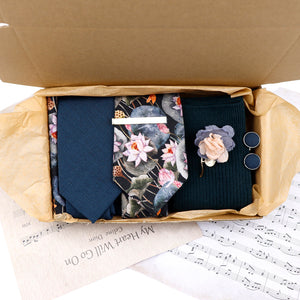 Achieve a timeless look with this Navy and  Water Lily Groom Set. Crafted from a linen and cotton blend, it features a contemporary sock and 2 tie design. Perfect for groomsmen, this set is a great way to dress up any special occasion.

This set includes 2 unique ties, a pocket square that can used for either tie, matching cufflinks,a lapel pin and socks. All is presented in a beautiful gift box ready to be gifted! 
Styled by top designers, the set is tailored to match the latest wedding color trends. Get ready for the wedding season with this singular set or  for orders of five or more, please connect with us for a discounted  group rate.